What might be the ultimate prepper firearm? What would its attributes be? Off the top of my head, versatility, power, reliability, and ammunition obtainability spring to mind when I think of what I'd want with me if I could only have one firearm. To fill that bill, with those requirements, a shotgun is the way to go.
What is a shotgun?
A shotgun is a firearm that fires shells (pictured above) that can contain many different payloads: birdshot, BBs, buckshot (large pellets used for self defense and hunting big game at short range) slugs (a huge hunk of lead), and less commonly, rock salt, flechettes (steel darts), bean bags, rubber balls (both less-than-lethal, in theory) and even magnesium, which shoots a stream of white-hot ignited particles out of your barrel with a flamethrower effect. Cool, huh?  This kind of versatility allows us to fine-tune our loads to what we're doing with the shotgun.
However, the everyday shotgunner will usually focus on the first three: birdshot, buckshot, and slugs. These are the bread-and-butter loads for our scatterguns, and the easiest to find.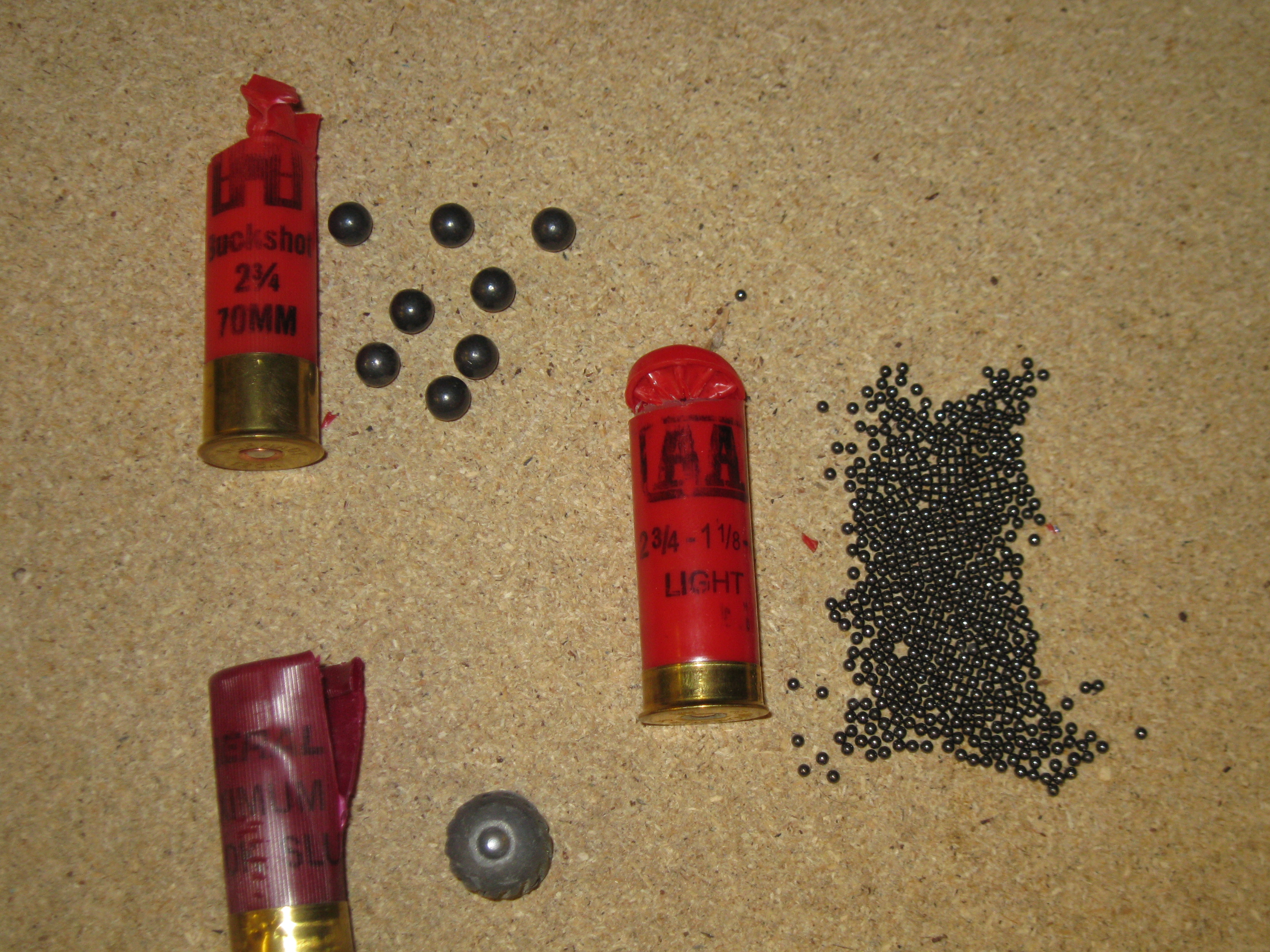 Birdshot is used for small-game hunting, hitting smaller, moving targets (such as flying birds….hence the name). Its payload is hundreds of small pellets that spread out in an ever-widening cone, making it easier to catch moving targets in the pattern the shot makes. To tell size of the shot, remember that the BIGGER the number, the SMALLER the shot is. For instance, number 7 1/2 shot is smaller than number 6 shot.
For small game hunting, #7 1/2 and #6 shot will work best, being a good compromise between number of pellets and pellet size to ensure penetration into game vitals. For turkey hunting, or shooting at longer distances, #4 shot works well, with the larger pellet size carrying more energy. BB sizes are hell to pay on woodchucks in the garden or coyotes. For the prepper, #7 1/2 target loads (used for sporting clays target shooting, but will work fine for game) can be found in bulk 100-packs at Wal-Mart and other retailers. These can help keep a large volume of shells in a nice tidy space on the shelf.
Buckshot is a more specialized load for the shotgun, but still extremely useful. Buckshot, like birdshot, comes in many, many different sizes, but it is generally accepted that #00 buckshot is the best balance. A standard 12-gauge #00 buckshot load will usually house 8 or 9 pellets that are .32″ in diameter. This is the standard for a self-defense buckshot load; when propelled at 1300 feet per second out of a shotgun barrel, it is very similar to launching 8 or 9 9mm pistol rounds AT ONCE towards your target. It is this kind of raw horsepower that gives the shotgun its legendary status in the defense and close-range big game hunting world.
Slugs are nothing more than a huge hunk of lead being shot out of your shotgun barrel. A standard 12-gauge slug is one OUNCE, and they can be served up at a snarly 1600 feet per second. This equates to approximately 3,000 ft-lbs of energy, and a big hole in whatever you fire it at. Slugs are the way to go if you need to turn your shotgun into a bit more of a precision weapon, landing hits on targets with more aimed reliability at up to 100 yards.
Pros and Cons
Well, all this versatility must come with a price, right? Right. As a general rule, shotguns are bigger, heavier, and recoil more than other standard rifles. Newton's Third Rule of Physics states that for every reaction, there is an equal and opposite reaction. So, if you're propelling an ounce of lead downrange at high velocity, you're also propelling a shotgun back into your shoulder at high velocity. However, the eight pound mass of a shotgun dampens that force and makes it tolerable. Recoil pads and recoil reducing stocks, combined with reduced recoil loads (made for smaller-framed and female shooters) can ease the shoulder tenderness as well.
Shotguns are also limited in range. As a general rule of thumb, with a standard cylinder bore choked barrel (usually found in short defense shotgun barrels) the shot pattern opens up 1″ for every yard away from the muzzle of the gun. That means that at 25 yards, your pattern is over TWO FEET across. If you have hundreds of small birdshot pellets, this is actually desirable, as it makes a huge area a moving bird has to fly through. But, if you're shooting buckshot at something shooting back at you, the chances are you will only be hitting your target with a small percentage of those 8 or 9 pellets. When used as a home defense weapon, though, this is alright, as most hallways in houses are far less than 25 yards, and a shotgun with #00 buck or even birdshot (I dunno about you, but a faceful of birdshot sounds pretty awful to me) will be a fearsome deterrent wielded this way. Ammo is also kinda big, with a standard 12 gauge round being about 1 inch in diameter, and almost 3 inches long. One 25-round box of 12-gauge shells is the same size as a 333-round pack of .22 Long rifles, or 90 .223 rounds.
A good pump-action shotgun has a TON of benefits, though, and they more than outweigh the cons. They are EXTREMELY reliable. Due to a small number of moving parts that are quite big, a pump-action shotgun is hard to break and easy to fix. The Remington 870 and Mossberg 500/590 series are the gold standards here. Semi-auto shotguns have more springs and parts that can fatigue and break, so for the prepper, the pump-action or break-open types are the way to go. Barrels can also be switched out quickly and easily, so you can take your 18″ barreled hole defense shotgun, swap the barrels out in less than a minute, and have a 26″ close-choked bird hunting barrel ready to go for FAR less than the cost of another gun. The classic "clack-clack" of the pump action chambering a round is a stereotyped, but still effective deterrent to badguys. Anything from quail to moose can be hunted with a 12-gauge shotgun with just a change of ammunition. Sights can be mounted easily, but really, a good high-visibility front bead will cover all the sighting needs you have, even being able to place slugs reliably in the chest cavity of a deer at 50 yards. They are unequalled in close-quarters combat and home defense. How can you go wrong? I think the world would be a better place if every sane-minded prepper had a good, reliable, well-stocked 12-gauge shotgun as part of their preps.
What do you think?
Stay safe!
-TRW